Surprise! We're going to break away from the 4Cs for this next determining factor – diamond shape. First, it's important to state that "shape" has nothing to with the GIA's definition of "cut", a common misconception.
Shape is an entirely personal preference, ranging from the traditional Round Brilliant Cut to the classic Princess Cut to the more avant-garde Cushion Cut. Unlike the 4Cs, the shape of a diamond does not factor into a diamond's inherent value. The right shape is whichever one she likes best, or, if you're making the decision, the one you think represents her unique personality the best.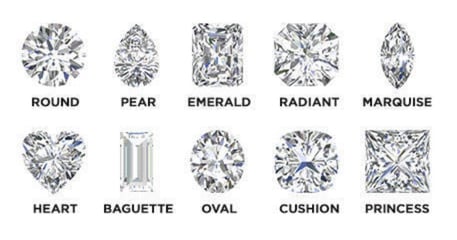 Each diamond shape possesses its own beautiful qualities. Here are some of the most popular worth considering.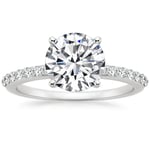 Round Brilliant
This is the quintessential diamond cut, boasting an intense array of facets that radiate with stunning brilliance. The Round Brilliant is the most popular of all diamond shapes, so if you're looking for a traditional classic, you can't go wrong with this diamond shape.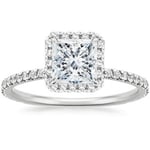 Princess
This timeless classic resembles an inverted pyramid. Light reflects off its corners with exquisite elegance. This shape boasts a strong sense of tradition but also has a modern and somewhat flirty twist.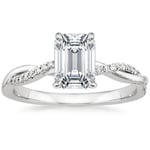 Emerald
The pronounced rectangular facets of the emerald cut showcase the diamond's original clarity. However, on lower graded stones, they can also make inclusions and colors more apparent. The emerald shape described in one word… GLAMOROUS. If she exudes confidence and self-assured charm, this is certainly a shape worth considering.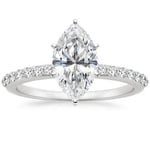 Marquise
Guys, this shape is often compared to a football. But if you want to know the truth, the Marquise came about in the 18th century when King Louis XV of France (1710-1774) instructed a jeweler to create a cut that would imitate the lips of his mistress, Jeanne Antoinette Poisson. This longer and narrower cut creates the effect of longer and more slender hands and fingers, which makes it a popular choice for rings. Some say this is the perfect cut for outgoing personalities.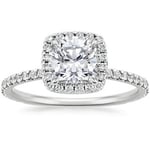 Cushion
The Cushion gets its name from its distinctive "pillow" shape. These diamonds tend to have impeccable brilliance thanks to their larger facets. Cushion cuts can be found in both oval and rectangle shapes. This shape was popularized more than a century ago, when Neo-romanticism was on the rise. Today, it remains a fashion forward statement known to exude romance.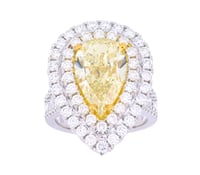 Pear
Combining round and marquise cuts, this teardrop shape tends to deliver maximum brilliance. It's also slimming on hands and fingers making it an ideal choice for diamond rings. The pear diamond is not as commonly used as other shapes, so it's the perfect choice for someone who possesses an adventurous sense of style.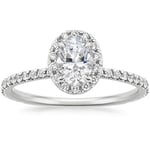 Oval
Known for its stunning sparkle and captivating curves, the oval borrows its facets from the round brilliant cut. A favorite choice for all types of jewelry – especially engagement rings. The oval shape is said to be a great choice for creative and artful personalities.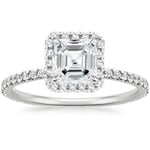 Asscher
This stone resembles the emerald cut; however, it's square in shape rather than rectangular. Introduced in the 1920's, it's found its way back to the forefront of fashion. This shape resembles the era it originates from, one in which women broke away from traditional fashion. This unique cut is for a vintage lover who gravitates towards a chic and bold style.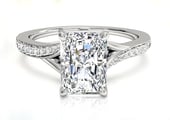 Radiant
A Radiant diamond is more difficult to find than other diamond shapes, and, therefore, is not commonly used for engagement rings. This diamond gives off a beautiful and elegant look because of its balance between a Cushion Cut and Princess Cut diamond. This rare shape is for a confident woman who does not shy away from statement pieces.
Guy-Friendly Tips On Selecting Diamond Shape
Just ask her. This is a personal decision, let her make it. Rest assured, she has her preferences and will be glad to share them.
Once again, ask her family or friends if you're unsure on her preference.
If you're uncomfortable asking, go with the Round Brilliant or Princess Cut as these are both timeless classics.
Because they are the most popular, Brilliant Round diamonds can be priced higher than equivalent diamonds in different shapes. If cost is a major issue, you might want to explore different shapes, such as Ovals or Marquise.