When deciding which colored diamond to purchase, only one thing matters – the quality of the diamond's color. Well that, and of course the preferences of the special person who will be wearing the piece of jewelry. You'll certainly want to keep them in mind as you discover more about this exciting, new trend in accessorizing.
A bit more on color. Fancy diamond color is described using three attributes:
Hue is the specific color we see, the appearance of red, blue, green, or anything in between. It can be a single color, such as pink, or it can have a secondary color. For example, if that pink diamond had a purple tint, we'd describe it as a 'purplish-pink diamond.
Tone defines how light or dark the hue of the diamond is. The primary and secondary colors mentioned above are responsible for the tone of the diamond's color.
Saturation describes the relative strength or concentration of a particular color. Saturation is then categorized using one of nine descriptors: Faint, Very Light, Light, Fancy Light, Fancy, Fancy Dark, Fancy Intense, Fancy Deep, Fancy Vivid. There are many different types of diamonds to choose from, but we're here to guide you're the process.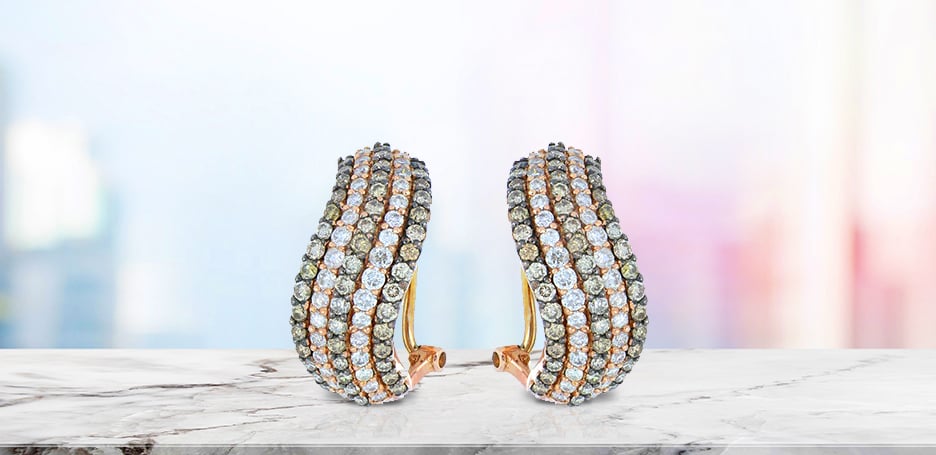 It's by the combination of these attributes, tone, saturation, and hue that we are able to describe the color of the diamond. Colored diamonds have a range of color strength, and stones with a pure color, those without a tint of another color, are considered rarer and therefore more valuable. Thus colored diamonds are quite different from their white diamond counterparts. In fact, only one in 10,000 diamonds has a natural fancy color, making them rarer than the colorless diamonds we see in everyday jewelry.
That's a lot of detail to remember when thinking about a diamond purchase. Here are three quick-tips to follow whether you're buying an anniversary gift or adding a unique piece to your collection.