Dangle, Hoop, Stud: Whatever your preference is, it works!
A few days ago, I was asked a question that truly had me speechless. For those of you who know me well, you know that is no easy task (well to my defense it was no more than 10 seconds). This question was posed to me on a Designer conference call that I have attended weekly during our COVID break from KFJ – What is your favorite class of jewelry and why? Not as easy as one would think.
Could it be the two-tone micro pave diamond rings that glisten in the light Romance Collection KFJ Diamond Ring, or that halo solitaire WOW that is a show stopper? White Diamond Ladies Ring. Could it be our patented KFJ Flexi Diamond Bangle that has taken our KFJ clients by storm? White Diamond Ladies Bangle.
While I love all of those collections and departments, there is nothing more timeless to me than what is worn on the ear. Ladies can go timeless with studs, go fancy with chandelier drop downs, or just go every day with the perfect diamond hoop. Whatever the preference is, as a Jeweler and a fan of fashion, if I had to pick, it would be Diamond Earrings.
Here is a short classification on each type of diamond earring, and some of my favorite picks
Hoop/Huggie
I get this question often – what is the difference, if any, when an earring concept is termed hoop or huggie? The correct answer is that a huggie is a type of hoop. There is no firm restriction on what can be termed a huggie hoop. It's varies based off the person and how snug the hoop sits on the ear. A Huggie for one person, may not be visually a huggie for another. In either case, hoop or huggie, they are beautiful and can be worn casual or dress up. Another fun way to enhance your hoop earring is to have them with the stones inside (interior) and outside (exterior)
My Top 3 picks below:
| | | |
| --- | --- | --- |
| White Diamond Ladies Earrings | Tanzanite Ladies Earrings | Purple Diamond Ladies Earrings |
Classic Studs
This concept hits home – When my wife and I first met and we spoke about my passion for design and our family business, she mentioned her love for timeless and classic diamond studs. Her words which I cant forget "no one should leave their home without their diamond studs" Up to this day, the classic 4 prong stud look is one of our best sellers at our KFJ Family store.
My Top 3 picks below:
| | | |
| --- | --- | --- |
| Emerald Ladies Earrings | Tanzanite Ladies Earrings | Blue Diamond Ladies Earrings |
Dangle/Leverback
Express yourself with these free flowing earring concepts – The longer the better in today's world, but I personally prefer an ideal ratio of hoop to dangle. I feel it catches the best light reflection and gives it a timeless look. I want to re-iterate and stress the world timeless. I use it often when I express my feelings, and in store, as I feel we should be buying items that are fashion forward and express our personality, but also items that we can wear many years in the future.
My Top 3 picks below:
On one of these leading designer calls, I was also asked to feature my top hoop design that I had custom-crafted this year. This will be submitted to a design board for special feature. Another hard question. While I love all my creations (they say you can't love one child more than the other – fact?), this particular pair hit the heart. Mostly everyone who works with me personally is aware of my deep passion for natural colored diamonds. I, particularly, fancy the natural yellow diamonds for which there are many hues of perfection. One has to find the right yellow color (bright, not too orange) and mix it with the right clarity so the natural hue doesn't come off weak. With the earring below, I feel I achieved a jewelry creation that is absolutely magical. The light perfectly catches each table of the natural cushion yellow diamond.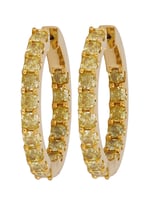 Yellow Diamond Ladies Earrings
As we continue on this journey together of jewelry, life, and familial relationships, I take a moment to personally thank each and everyone of you who continue to visit our family business and be a part of us. 31+ Years Strong!
I am proud to have maintained our family's legacy through my design creations.
-Tesh Chugani
---
Click link below to watch the first "ISLAND TIMES WITH TESH" Video – Subscribe to our YouTube Channel for more episodes and KFJ video updates.