From my Heart to your Family Collection!
First and foremost, I hope you, your family, loved ones and communities are staying safe in these unique world times. I am thankful that many of you have kept in touch and shared your stories, family pictures, and how you are all staying busy, and most importantly safe. The 4 letters of ZOOM will forever stay with us :-)
I am also humbled that most of you continue to inspire me to use my time wisely and do what I love – DESIGN for KFJ! As the saying goes, "Sometimes later becomes never – Do it now" and that I am!
My family and I always like to look at the bright side of things. So I am viewing this "shelter in place" as a golden opportunity to realign with myself and connect with my creativity and passion. I have been busy the last few weeks drawing new Caribbean jewelry designs and creating collections that our KFJ family will enjoy.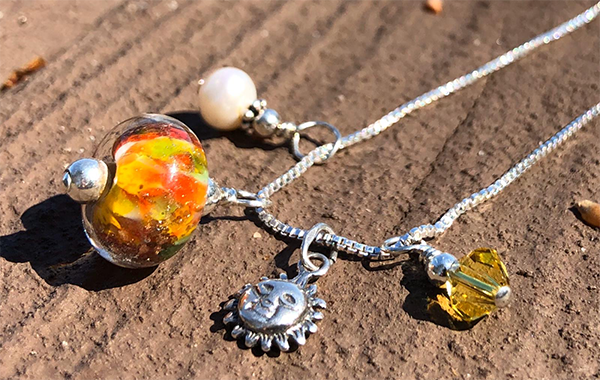 My most recent creation was a group effort with my family. Made with yellow to orange Murano glass beads, our Stress Less Sun Necklace reminds you that the sun always rises and there are better days ahead.
Here is a sneak peek at some of the new designs in the works. They are not all quite ready yet, but they will be available when you visit our stores again.
| | | |
| --- | --- | --- |
| | | |
| Computer rendering of a matching band for Bridal Ring setting | NEW "Henna" Cushion Ring – available in our custom design site | Hand drawing of Emerald Palm Tree and Diamond Pendant |
I enjoy the process of creating so much, that I invite you all to try it! Get Inspired to create your own jewelry pieces by visiting our custom design site. You can pick from different designs, metals and stones to create a jewelry piece that is uniquely your own.
Caribbean Inspired Jewelry Designs

I have always had a passion for jewelry. When I first joined the family business, I loved spending time on the sales floor, helping our clients find the perfect piece to commemorate a milestone moment.
Through the years, my passion for personal jewelry design has grown and I enjoy the process of design as much as I enjoy helping you find the perfect Caribbean jewelry memento of your visit to our Happy Island.
From stunning rings and pendants to head-turning bracelets and earrings, each piece I design evokes the spirit of the islands. Two great examples are this Divi Tree Limited Edition Collectible Pedant and the playful Larimar and Sterling Silver Seahorse Pendant.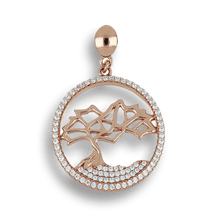 It is a very special joy for me to capture this magical feeling of paradise through jewelry design. There is no better feeling than when I get a call or text from a past client to tell me how much they are enjoying their item and how many compliments they have received!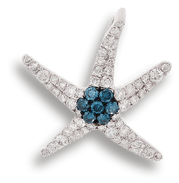 Our Happy Island is a great source of inspiration for my Caribbean jewelry designs. I am inspired by what Aruba offers and our surroundings -- the divi tree, the sunset colors in the horizon, and the sealife on a snorkel trip are just a few iconic themes that captivate my imagination. I take these thoughts and colors and try to design something unique that people can pass on for generations and remember the Happy Spirit, Vibe and Energy of Aruba. This playful Blue Diamond Starfish Pendant.
This is why ocean color blue gemstones to earth toned colored diamonds are featured in many of my Caribbean jewelry collections. Blending as many as 3-4 colors of gold is also not uncommon for me. It gives our KFJ collections a distinctive look and feel.
A KFJ Favorite Reimagined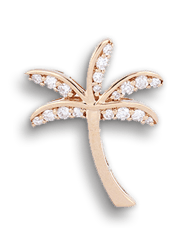 Sitting outdoors in our cool Caribbean breeze, hearing the palm trees sway in harmony, made me think of our Tropical Collection palm tree pendant in a new way. I am sharing my new vision for this Diamond Palm Tree Pendant in the hopes that it will inspire you to see your surroundings in a new light.
The perfect space between each branch is a perfect metaphor to prove that soon life will be normal and perfectly aligned. Everything that we once knew as routine will soon return, while the show of skin between these branches will show that there is light in every dark period. The solid stem with no diamonds is not without purpose. It shows that if we are deep-rooted in our values and our culture, nothing can push us over.
Our Greatest Joy and Passion
As much as I enjoy designing jewelry that evokes our Caribbean treasures, I would have to say my greatest joy is the relationships KFJ has forged through the years. We know that when you walk through our doors, you are not only buying a piece of jewelry. You are also buying into a family and a circle of honesty and integrity when you trust in us. My family and I are humbled by the trust that so many of our clients have placed in us over the decades and it is a true joy to see so many of you returning year after year!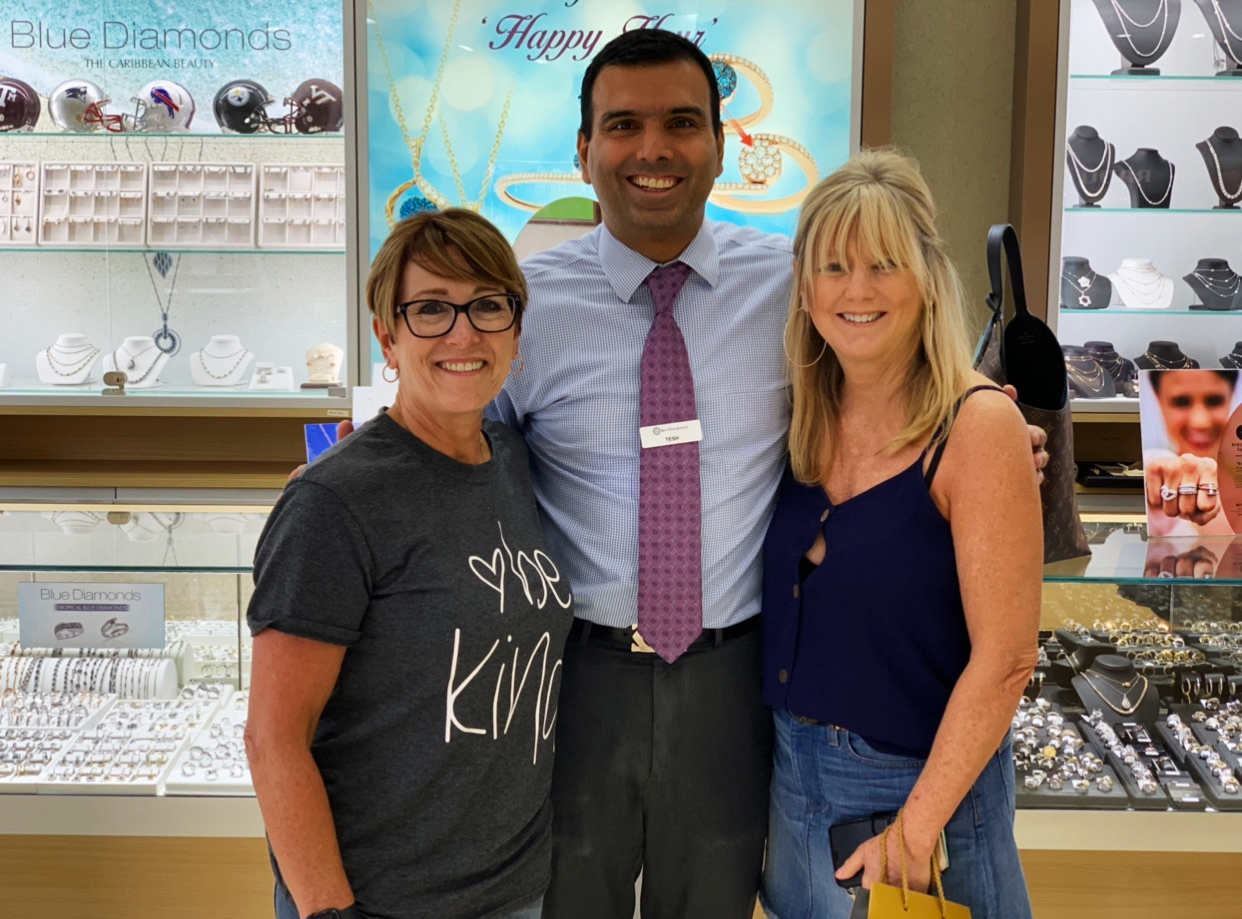 I know we will meet again over champagne and diamonds and I can hardly wait. #untiltomorrow